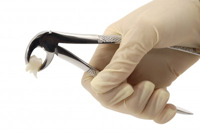 US dentistry recently got a shock when it was revealed that a dental practice which was shut down was also responsible for the transmission of Hepatitis C.
The dental surgery in Tulsa, Oklahoma came under the spotlight after it was reported that the dental surgeon and staff were using rusty equipment, and re-using old needles.
Although this was serious in itself, it was later revealed by the US heath authority – the Centre for Disease Control and Prevention (CDCP) – that this particular practice was also responsible for the first recorded case of Hepatitis C transmission between patients.
The finding came from genetic research carried out by the US health organisation. And while this is the first known case of patient to patient transmission of Hepatitis C, Dr. Bradley cannot be sure it is not the only one.
Hepatitis C is a very infectious disease, and while not as serious as other forms of hepatitis, it is still nevertheless life threatening over the long term. The virus can persist in the liver of 85% of those affected.
Hepatitis C is also transmitted through blood; hence the investigation into the dental surgery in Tulsa.
Although this case is extremely serious for dental and other health professionals in the USA, the latter are warning that the case should not be allowed to cause alarm. The vast majority of dentists work safely and properly, and within the proper guidelines laid down by dental authorities.
In short, this case is rare, and should be seen as that.