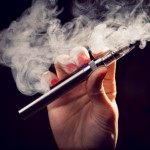 A new study suggests that more than half of vapers in the UK have quit smoking. Research conducted by Action on Smoking and Health (ASH) found that more than 50 percent of people using e-cigarettes in the UK have given up smoking. This is the first time figures have reached the over 50 percent benchmark.
A survey of 12,000 adults revealed that 1.5 million vapers have quit smoking cigarettes, while 1.3 are still smoking. Around 9 million people smoke in the UK. Vaping has become increasingly commonplace, with numbers rising from 700,000 in 2012 to 2.9 million in 2017.
Despite the pleasing figures, representatives from ASH claim that there is still a long way to go and many smokers out there left to convince. Although many have switched to vaping and then given up, there are still millions of smokers out there.
Most people choose to vape to try and quit smoking, and research claims that exposure to chemicals released by e-cigarettes is likely to be a lot less harmful to those contained in normal cigarettes. Deborah Arnott chief executive of ASH, said that the numbers represented "excellent news" but called for more smokers to switch to vaping. Although a large proportion of people have swapped cigarettes for e-cigs, numbers are rising at much steadier pace, and the charity has warned that the popularity of vaping may have reached its peak.
Studies suggest that around a third of smokers have never tried vaping. Some have concerns about the safety and efficacy of e-cigs, while 26 percent of those surveyed thought that e-cigarettes were equally or even more dangerous than traditional cigarettes. Only 13 percent of people stated that they thought vaping was much less dangerous than smoking normal cigarettes.