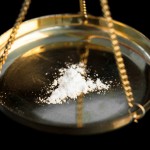 Police have confirmed that seven people have been hospitalised as a result of taking a 'potent' form of MDMA.
Officers from Greater Manchester Police revealed that four men and three women were taking to hospital over the weekend (24th/25th June) after taking drugs that are known as 'magic' and 'pink champagne.' Reports suggest that the drugs are particularly powerful and dangerous forms of MDMA.
A 26-year old was arrested by police in Oldham on suspicion of dealing class A drugs, and the suspect is currently being questioned. The most recent updates state that some of the victims are still in intensive care while others are in a critical but stable condition. Two men were released from hospital following treatment over the weekend.
According to Det Insp Jim Faulkner, from Greater Manchester Police's Oldham Borough, there is real concern over the rising number of cases linked to this 'potent' strain of MDMA. Taking the drug can result in severe, life-threatening symptoms and police have appealed for people to act quickly if they suspect that a friend or relative has taken the drug. Warning signs to look out for include foaming at the mouth, aggressive behaviour, rigidity in the muscles, slow and shallow breathing, rapid pulse and falling into a state of unconsciousness. If these symptoms are visible, urgent treatment is required.
Det Insp Faulkner confirmed that one man had already been arrested, but inquiries are ongoing, and police will be doing everything possible to try and stem the supply of these lethal drugs.