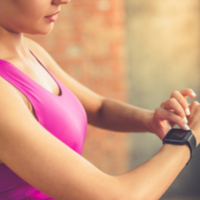 New research could put a dampener on the spirits of those who have vowed to get fit after receiving wearable fitness trackers for Christmas. Studies conducted by researchers at Aberystwyth University suggest that some devices can overestimate the number of calories burned by up to 50 percent.
Researchers found that all the devices tested were inaccurate when measuring calorie burn during running and walking. The team tested a range of products priced between £20 and £80.
Dr Rhys Thatcher, from the university research team, said that the tests indicated that there was "an inherent tendency" to provide estimates that were inaccurate. In response, Fitbit said that its products were developed based on "extensive research" while other manufacturers said that they never claimed to be "medical devices."
The tests were undertaken as part of a project for BBC X-Ray and they measured the amount of oxygen used during a period of exercise. Participants either walked or ran for 10 minutes on a treadmill, and the researchers then analysed the results on a range of fitness trackers.
The results varied, with Fitbit's Charge 2 the most accurate device when measuring calories used when running. The figure was found to be 4% too low, but when analysing walking, the results were very different. The tracker overestimated calorie burn by over 50%.
Dr Thatcher stated that the findings of the test indicate that you have to proceed with caution when working out how many calories you have actually burned when exercising. The inaccuracies may cause problems for those who require accurate data, but they shouldn't affect those looking to use the information for motivational purposes or to improve their fitness over a period of time.