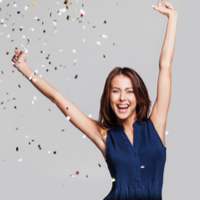 As we begin a brand new year, it's common to make resolutions. Many people vow to try and improve their health, but with so much information on offer, and so many fads and health trends hitting the headlines, it can be difficult to separate the proverbial wheat from the chaff. For those keen to focus on boosting their health and wellbeing in the months ahead, health experts have shared their suggestions for changes that will make all the difference in 2019.
Many of us think of health as a physical entity, but Dr Nadine Sammy, from the University of Exeter, is urging people to prioritise their mental health in the year ahead. Dr Sammy recommends taking steps to become more self-aware, which enables you to recognise and understand your moods, your emotions and what drives your behaviour. By focusing on mental health, you can not only make a concerted effort to be happier and more content, but you can also make better choices based on an enhanced understanding of your feelings, thoughts, and emotions, and what makes you tick. Dr Sammy recommends meditation, writing a journal and making time for reflection and relaxation.
Doing more exercise is one of the most common resolutions. The trouble is that many of those who rush out and buy new gym kit to match their new membership give up after a short period of time. If you're one of those people that tend to give up on the goal of moving more, Dr Rhys Thatcher, from Aberystwyth University, urges you not to join a gym this January, but to adopt a dog instead. Dog owners tend to be more active and having a pet is a great way of adapting a new routine, which incorporates daily activity.
Another popular resolution is to eat well. Most of us are familiar with the five-a-day mantra, but often, we tend to stick to the same foods. Instead of opting for old favourites, Dr Megan Rossi, from King's College London, advises broadening our dietary horizons and trying 30 plant-based foods per week. This not only ensures a variety of minerals, vitamins, and nutrients, but it also boosts gut health.