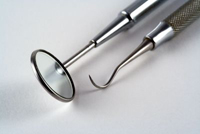 After both dental organisations in Britain and the USA lifted the ban on HIV positive dentists working with patients, new cases have apparently arisen.
Three patients of a dentist from Tulsa have tested positive for HIV, while 70 patients have tested positive for Hepatitis C. A further 4 patients have also tested positive for Hepatitis B.
It seems the dental practitioner in question was using dirty and contaminated equipment. As many as 7,000 patients were thought to have been affected, but this figure looks to have been revised down.
Nevertheless the matter is a serious one, which the authorities recognise.
One medical expert told reporters:  "This is a complex investigation."
The suggestion is that the dentist had not been carrying out proper sterilisation of his equipment. Rather he was using equipment that was hazardous to health.
As well as a police investigation the dentist was charged with 17 complaints by the local dental board. The board described the dentist as a menace to public health.
A spokesperson for the Oklahoma Dental Board added: "The CDC has determined that rusted instruments are porous and cannot be properly sterilised."
It wasn't just rusty equipment that was of concern. Seemingly the dentist allowed his dental assistants to administer IV sedation.
Although this case is not unique, it is rare. As such, patients are advised not to worry, and to visit their dental surgeon regularly.