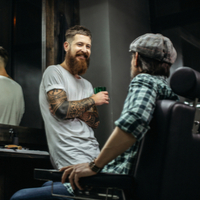 Gloucester barber trains staff to detect signs of mental health issues in clients
The owner of a barber shop in Gloucester has trained all staff members to detect signs of mental health issues in clients.
The Pride Salon, which is now reopening to the public after the lockdown, has provided staff with training through the Lions Barber Collective charity with the help of funding from the NHS. The charity was set up by barber, Tom Chapman. Tom, who has been cutting hair for 20 years, said that hairdressers and barbers are often in a unique position to spot warning signs because people tend to open up to them while they are in the chair. Some people feel more comfortable talking to their hairdresser than a friend or a family member, and it is hoped that offering training will help barbers to support those who may not otherwise reach out.
The training provided by the charity teaches individuals to spot signs of depression and to listen and help people talk openly. Tom explained that the idea for the charity came out of his own personal experiences. During his career, he claims that clients have told him 'everything' and he wanted to do something positive to help those who might feel that they don't have anyone else to talk to.
Alistair Stewart, senior barber, said that it's common for people to be anxious about chatting to people they know. Undergoing training to detect mental health issues and signs of depression can help barbers and hairdressers to understand when people want to talk and enable them to develop the skills to best assist those who do feel comfortable opening up while they're having a haircut.
Training manager at The Pride Salon, Jenny Carrigher, suggested that the training enables barbers and hairdressers to notice changes in their clients, which they can then act on in a more effective and targeted way. It can be helpful to talk to clients about going to their GP, but what the training does is to provide staff with information about specialist local resources and help measures, which they can pass on. At the same time, the training gives them the insight, experience and skills to listen, talk and offer advice.