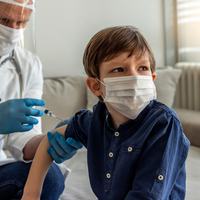 The government has confirmed that 5-11-year-olds will be offered the Covid vaccine from April.
Following advice from the JCVI (Joint Committee on Vaccination and Immunisation), children aged between 5 and 11 years old will be able to access the vaccine. The rollout will start in April and children in this age group will be given a low dose.
Sajid Javid, the health secretary, stressed that this phase of the vaccine rollout was 'non-urgent' and added that it would be down to parents to decide whether or not to vaccinate their children. So far, ministers have approved plans in England, Wales and Scotland.
Data suggests that children have a much lower risk of developing symptoms, particularly severe signs, of Covid. According to the JCVI, the low-dose vaccine is designed to prevent a "very small number of children from serious illness and hospitalisation."
Prof Wei Shen Lim, from the JCVI, explained that expanding the rollout was a means of protecting young children and helping to "future-proof their defences against a future wave of infection."
He advised scheduling vaccines for children during the Easter holidays to minimise disruption to education in the event that children develop mild side-effects. Side-effects are similar to symptoms some children experience after having the flu jab.
Data indicates that vaccinating one million children would prevent 98 hospitalisations if the next variant was severe and 17 hospitalisations if the next variant is mild.
Mr Javid outlined plans to offer children aged between 5 and 11 years old the vaccine during April in order to offer parents the chance to boost children's immunity against future waves of infection as the UK adapts to living with Covid.
The priority for the vaccine programme will remain adults, particularly those who are more vulnerable to severe symptoms of infection.
The vaccine approved for children aged 5-11 is equivalent to a third of the dose for adults. Vaccination will involve two low doses of the Pfizer/BioNTech vaccine at least 12 weeks apart.
For more news please click here