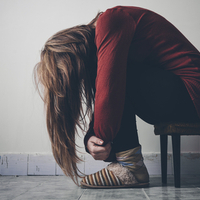 New figures from the NHS suggest that almost a quarter of young women have a mental illness.
A recent report revealed that females aged between 17 and 19 were twice as likely as their male counterparts to have a mental health disorder. The figures showed that 23 percent of women in this age group reported a psychological illness. Although mental illness is less prevalent in younger demographics, the report suggests that disorders are becoming more commonplace.
The report found that one in nine children aged between 5 and 15 had a mental illness. This has increased from one in ten in 2005 when the last review was conducted.
The report was compiled based on data collected from more than 9,000 individuals by NHS Digital.
Dr Bernadka Dubicka, from the Royal College of Psychiatrists, described the figures related to young women as "alarming" and said that body image, stress linked to exams and the impact of social media were likely to play a part. At the moment, it's not possible to talk in any more detail about contributing factors, Dr Dubicka explained, but it is crucial to ensure that young women and teenage girls have access to the support they need.
Anne Longfield, Children's Commissioner for England, said that there was a "vast gap" in NHS mental health services and called for more to be done to reduce waiting times and improve access to specialist services for children. Almost half of young people in their late teens who had a mental illness had attempted suicide or self-harmed. Amongst younger teenagers, the figure was around 25 percent.
Emma Blezard, 18, is one of many young girls who have struggled with mental health disorders. From the age of 13, Emma found it difficult to cope with anxiety and she suffered panic attacks before developing an eating disorder and later, experiencing suicidal thoughts. Emma kept her struggles to herself for the first year, and it took a lot for her to open up to her parents. She claims her illness deprived her of her teenage years and said she wished she could do it all over again without any struggles.
The report has raised questions about the impact of social media, as researchers found that teens aged between 11 and 19 who suffered from mental illness were more likely to use social media platforms. Almost a third of those surveyed spent more than 4 hours per day on social media sites. People who didn't have a psychological condition were almost three times less likely to dedicate that amount of time to social media.