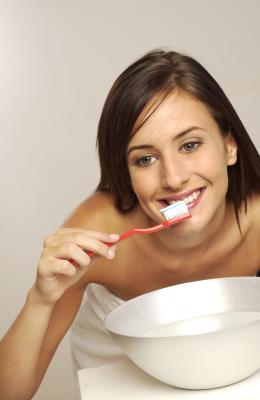 The American Dental Hygienist's Association has urged people to brush up on oral hygiene as part of National Dental Hygiene Month.
The national campaign is run to promote good oral hygiene and encourage people to take better care of their teeth and gums; the scheme will run in conjunction with GlaxoSmithKline, the makers of Aquafresh oral hygiene products.
This year's theme is "Healthy Habits are Easier than you Think" and representatives from the ADHA are keen to show people that it only takes a few minutes each day to clean the teeth thoroughly and keep teeth and gums fresh, clean and healthy. Studies have shown that brushing the teeth for two minutes twice a day is the most important part of the oral hygiene routine, but flossing and using mouthwash are also extremely beneficial.
ADHA President, Caryn Solie, said that proper oral hygiene was extremely important for good oral health, which contributes to good overall health. Brushing the teeth for two minutes twice a day helps to remove plaque from the surfaces of the teeth and along the gum line and keeps the breath fresh and clean. Regular brushing helps to promote good oral health and reduce the risk of cavities and gum disease.