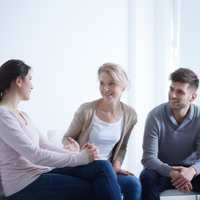 A mental health support scheme, which has been running in A&E departments in North Wales, is set to be expanded. The initiative, which provides support for patients attending emergency departments who may not need medical treatment, will now be rolled out across GP surgeries in the area.
So far, the 'I Can' centres located at Glan Clwyd, Gwynedd and Wrexham Maelor hospitals have helped more than 2,500 people. The centres are designed to support individuals who want to talk about mental health issues or voice concerns about their psychological wellbeing away from hospital wards. The facilities are staffed by paid employees and volunteers, several of whom have experience in dealing with mental health issues themselves. 
A spokesperson for Betsi Cadwaladr Health Board suggested that the service provides an opportunity for people who don't need urgent medical treatment to talk about mental health issues in a safe and secure environment. By expanding the programme to include local GP surgeries and community hubs, it is hoped that more people will get the support and guidance they need at the same time as relieving pressure on emergency departments.
Twenty-three-year-old Shannon Doherty benefited from the service at Maelor Wrexham Hospital and she is now a volunteer, using her time and her own experiences to help others. When she arrived at the hospital, she was taken to the I Can centre, away from the hustle and bustle of A&E and encouraged to talk to the staff there. She felt as though she could be open and honest without worrying about wasting anyone's time or being judged, and the experience had a really positive impact. Since joining the team, Shannon has realised the prevalence of issues such as feeling like you don't belong and lacking a sense of community. The I Can centre can help to restore that at the same time as giving people a platform to talk openly.