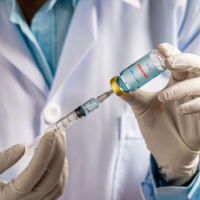 The Covid-19 autumn booster rollout will begin on September 5th, NHS England has confirmed.
The latest phase of the vaccination programme will start in early September in England, with around 26 million people eligible for the booster dose. Those in priority groups will be offered the vaccine, including all over 50s, health and care workers and individuals who have underlying health conditions that put them at greater risk of severe symptoms.
Care home residents and people within priority groups who are housebound will be the first to receive the autumn booster.
NHS England has confirmed that the newly approved bivalent vaccine from Moderna will be used "subject to sufficient supply." The UK recently became the first country to approve the vaccine, which protects against the original virus as well as newer variants, including the Omicron strain.
Health experts have encouraged anyone who is eligible for the booster to come forward for their jab. Vaccines will be administered at a variety of settings, including care homes, community pharmacies and GP surgeries. Some people will be offered a flu vaccine at the same time.
The Moderna bivalent vaccine will be used alongside the original vaccines, which experts have stressed provide robust protection against all identified variants. People have been encouraged to accept any vaccine they are offered. The NHS will contact those who are eligible for the autumn booster. The booster dose should be given at least three months after the previous vaccine.
Director for vaccinations and screening at the NHS, Steve Russell, said that it is very important for people to come forward for both the flu jab and the Covid booster, as this will be the first winter when flu and Covid are in "full circulation." Mr Russell added that vaccination was "vital" for the most vulnerable.
The NHS is urging those who are most susceptible to severe infection to book slots for the booster in early September to boost immunity during the autumn and winter months.
For more news please click here