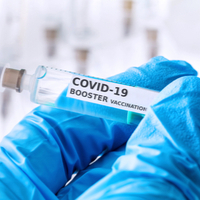 The Covid-19 booster vaccine programme is expanding at pace to fight a 'tidal wave' of Omicron cases.
On Sunday 12th December, the Prime Minister addressed the nation, detailing new guidance on the booster jab to enable as many people as possible to get the third vaccine in the coming weeks.
The previous deadline for offering all adults a booster dose was the end of January 2022, but Boris Johnson has brought it forward amid a sharp rise in cases of the Omicron variant.
Talking in a televised address, the Prime Minister warned that a "tidal wave" of Omicron infections was set to hit the UK, with case numbers doubling every 2-3 days.
This is significantly faster than the Delta variant and there are concerns about the efficacy of the vaccines. Recent data showed that boosters were still highly effective, but indicated that two doses would not be sufficient to prevent mild symptoms.
The booster programme has already been up and running for months, but ministers are working with the NHS to deliver the remaining doses at a much faster pace to reduce risks.
The Omicron variant, which was identified by scientists in South Africa, contains several mutations and it is highly transmissible. While there is currently no evidence to suggest that it causes more severe symptoms, it is spreading rapidly.
Even if a small proportion of people who are infected develop serious symptoms, there could be a substantial increase in hospital admissions, which the Prime Minister fears "could overwhelm our NHS."
The booster scheme will now be ramped up, with over 30s able to book their jabs now and over 18s able to make an appointment from Wednesday 15th December.
All adults should be offered a jab by the end of December. Vaccines will be available from community hubs, local pharmacies and vaccine clinics and mobile units are also being deployed across the country to speed up delivery. Walk-in vaccines will also be available.
On Monday 13th December, Sajid Javid, confirmed that there were currently ten people in hospital who have tested positive for the Omicron variant. On Sunday 12th, 1,239 new cases of Omicron were confirmed, taking the total to over 3,000 in the UK. The real number is expected to be much higher.
For more news please click here