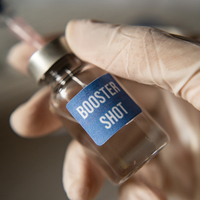 Booster vaccines are now available for 16 and 17-year-olds in England.
From Monday 17th January, teens who are eligible for the third dose will be able to book an appointment for their vaccine. Around 40,000 16 and 17-year-olds will be able to access boosters initially.
Those who had their second vaccine dose at least three months ago will be the first to be invited. Eventually, boosters will be available to more than 600,000 teens aged 16 and 17.
The move marks the start of the next phase of the booster rollout scheme, which started in 2021 with the top nine priority groups. The first people to receive the third dose were over 50s, health and social care workers and those with underlying health issues. The rollout then continued to cover all adults, with everyone aged over 18 able to book a booster or attend a walk-in session by the start of 2022.
Studies have shown that the booster vaccine plays a crucial role in protecting against hospitalisation. Data suggests that the third dose reduces the risk of serious disease by over 85%. The booster jab also prevents around 75% of people from developing a symptomatic illness.
The first invitations for the vaccine for 16 and 17-year-olds were sent out in August 2021, but boosters were initially only recommended for this age group for those who are clinically vulnerable.
The JCVI (Joint Committee on Vaccination and Immunisation) has since recommended boosters for all 16 and 17-year-olds based on promising data, which underlines the efficacy of the third dose in protecting against severe disease, including cases of the Omicron variant.
Deputy lead for the NHS vaccination programme and GP, Nikki Kanani, said that vaccination was hugely beneficial for teenagers, not just because it reduces the risk of symptoms and serious illness, but also because it will help to minimise disruption in educational settings to ensure that children and teens are able to stay in school and enjoy socialising with their friends.
Maggie Throup, vaccines minister, said that the latest phase of the booster rollout is designed to maximise the chances of keeping schools, colleges and sixth form departments open and running as smoothly as possible.
Booster vaccines will be provided for teens who had their second vaccine at least three months ago. The vaccine is recommended for those who have not had Covid in the last 12 weeks.
For more news please click here