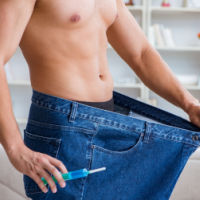 Boots is to stock a controversial weight loss injection made popular by celebrities.
The high street chemist will sell Wegovy, a weight loss drug, which has hit the headlines due to its celebrity following, which includes billionaire Elon Musk. The injection will be available on prescription, with Boots offering the full prescribing and dispensary service.
Wegovy, also known as semaglutide, aids weight loss by reducing the individual's appetite. It contains the same ingredient as Ozempic, a diabetes drug, which has become popular in the US and is referred to as the "skinny shot" of choice for A-listers.
Health experts have warned that weight loss injections are not miracle cures or quick fixes. They should only be prescribed to individuals who meet the qualifying criteria and should be offered on the advice of trained medical professionals.
Like most drugs, Wegovy carries a risk of side effects, including nausea, bloating and an upset stomach. The drug is not suitable for long-term use. Individuals are advised to take it for a maximum of two years.
At present, there is no information about the expected cost of treatment at Boots but draft NHS guidelines suggest a cost of £73.25 for a month's supply. This includes four pre-filled injections.
Wegovy suppresses the appetite by copying the actions of the hormone GLP-1, which reduces hunger and makes people feel full. It is injected once a week and can be administered by the individual at home. Wegovy is recommended for people who are overweight or obese and in the UK, it must be prescribed a doctor.
Boots will be stocking the drug once it becomes available in the UK, which is likely to be in the next three months. A spokesperson said that Wegovy can be "an effective medicine to achieve sustained weight loss when used alongside a reduced calorie diet, increased physical activity and healthy lifestyle choices." It will be available online via Boots Online Doctor.
Trials showed that Wegovy can help obese people to lose up to 10% of their body weight. On average, participants lost around 12.7kg.
For more news please click here