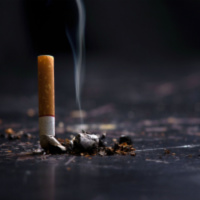 The Canadian Government is considering adding warnings to individual cigarettes to discourage people from smoking.
Ministers have proposed putting health warnings on each cigarette to stop smoking. If the plans go ahead, this would be a world-first.
Minister for Mental Health and Addictions, Carolyn Bennett, said that she hoped that the policy would help to target those who don't usually see the health warnings on packets of cigarettes, for example, young people who smoke in social situations. The government has launched a 75-day consultation period to gather information and feedback.
Ms Bennett suggested that warning images displayed on packets of cigarettes were not as effective anymore and indicated that the new system could reach more people. Statistics show that there are more than 4 million daily or occasional smokers in Canada. Smoking is the most common cause of premature death in adults, accounting for around 48,000 deaths per year.
The news has been welcomed by some charities, including The Heart and Stroke Foundation of Canada. CEO, Doug Roth, said that under new guidelines, Canada would have the "strongest health warning regime for cigarettes in the world." New measures could help to encourage regular smokers to cut down or quit and reach people who usually only smoke in social situations. Mr Roth described cigarettes as "deadly products" and suggested that the new warnings would make them less appealing to young people and non-smokers who may be thinking about trying smoking.
New proposals in Canada have been published as ministers in the UK outline plans to try to bring the number of smokers down to meet an ambitious target to make the UK smokefree by 2030. Almost 6 million people smoke in England and smoking is the most common cause of preventable health conditions and deaths. A recent review proposes multiple steps to reduce smoking, including increased investment in smokefree policies, raising the age of sale from 18, promoting vaping to help smokers quit and providing more advice and support for smokers through the NHS.
For more news please click here