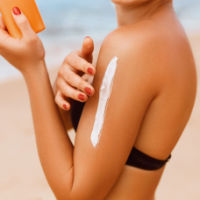 Cancer charities have called for an end to taxes on sunscreen to make products more affordable.
Several UK charities, including Cancer Research UK, have joined forces to urge the government to scrap tax on sun creams and lotions to encourage people to protect their skin in the sun. Currently, sunscreen is categorised as a cosmetic product, which means that 20% is added to the price through VAT. Charities want high-factor products to be excluded from VAT charges to bring prices down.
Sun damage is the most significant risk factor for skin cancer. Melanoma, the most common type of skin cancer among young people, is the most dangerous form. Cases of melanoma in the UK are rising. If melanoma goes undetected and untreated, it can spread to other parts of the body like other types of cancer, increasing the risk of death.
Dr Louise Soanes, chief nurse at the Teenage Cancer Trust, said that many people are unaware of the risks of sun exposure. Severe sunburn, even if it occurs just once or twice a year, can triple the risk of skin cancer. She added that the cost of sun lotion is making it unaffordable for some and suggested that it should never be considered a luxury product.
Kass Barker, a cruise ship dancer, was just 22 when she was diagnosed with melanoma in 2020. She used to love sunbathing but said that she knew in her gut that something was wrong when she went to get a mole on her wrist checked out. After her diagnosis, Kass has made it her mission to try to raise awareness of the dangers of sun exposure and is encouraging everyone to wear sun lotion. As a dancer, she said she loved to be tanned but it isn't worth risking your life to get a healthy glow. She added that if people could buy a cream or lotion to prevent against breast cancer, no questions would be asked.
Amy Callaghan, an MP for the Scottish National Party, is currently campaigning for changes, which would make sunscreen VAT-exempt. She was diagnosed with melanoma at the age of 19. She said that over 50% of her constituents are struggling to buy essentials during the cost of living crisis, which means that products like sun lotion are not affordable.
A recent survey carried out by Melanoma Focus showed that more half of over 16s thought that sun lotion was too expensive and 10% admitted to not using sunscreen due to the high cost.
For more news please click here