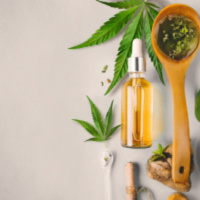 Applications for cannabidiol (CBD) product authorizations have been closed by the Food Standards Agency in the UK. Recently the agency published a public list of 12,000 cannabidiol, or CBD, products and this number has doubled since March of this year. Products such as CBD gummies from Blessed CBD and Vibes CBD have made the list, alongside other leading CBD brands.
The Food Standards Agency, or FSA, thanked the CBD industry for their cooperation and help but will not be accepting any more evidence.
According to Rebecca Subworth, Director of Policy for the FSA, the initial list of 6,000 products prompted more companies to submit new evidence linking large quantities of individual CBD products to applications which were already filed.
The agency responded by issuing a final call for evidence to allow companies in the CBD marketplace to ensure their products are compliant. Subworth commented that the issue is an important one to get right and was encouraged that a lot of businesses wanted to authorise their CBD products.
The list is closed now although companies may still apply for CBD food product authorisation via the regulated products process if in Great Britain or via the European Commission if the products will be sold in Northern Ireland.
New applications however are not eligible to go on the public list and should not be sold until they receive authorisation.
Market Regulations for CBD Products
CBD extract first gained novel food status back in January 2019. According to the regulations, any ingredient or food with no consumption history prior to May 1997 must be evaluated and then gain authorisation before going on sale to the public.
This authorisation is needed to show products are compliant with safety, content and legal standards, in order to protect public health. Products must have the correct labelling and must not be considered a controlled substance.
The FSA asked for CBD industry submissions to evaluate product suitability, in order to draw up a list of credible CBD products for market authorisation and also help retailers and authorities prioritise which products are not approved for sale.
It is up to local authorities to enforce regulations and encourage food-related businesses removed from the list or not on the list to withdraw unapproved products from the market. In the case of refusal, more formal measures might be introduced.
A product is likely to be removed from the approved list if the application has not made it to the following stage or if the application has not made enough progress in a reasonable time.
Assessment of Applications
A validated application is subject to a complete risk assessment and, if deemed of sufficiently low risk, will go through another risk management process, after which a recommendation can be prepared for authorisation ministers.
This can take up to nine months plus extra time should more information be required. If the risks are deemed to be sufficiently low, the second risk management period must be completed within seven months. Because of this, new applications will likely not be considered before the start of 2023 at the earliest.
FSA Recommendations
FSA findings show that CBD extract, which is found naturally in cannabis plants, is non-toxic. Although this substance is used in a variety of products such as baked goods, confectionery, oils, and drinks, there are no authorised products containing CBD in the UK marketplace currently.
According to FSA recommendations, 70mg of CBD (28 drops of 5% strength CBD) is the maximum daily amount consumed with no medical supervision. Consumers are advised to refer to precautionary advice based on Committee on Toxicity (COT) findings before using products containing CBD.
The FSA does not guarantee any products on the list will be authorised and does not endorse any of these products. Every applicant must be assessed for safety before approval is granted.