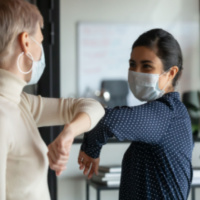 Covid infection rates are falling across the UK.
The latest statistics from the Office for National Statistics (ONS) confirm that levels of infection are continuing to decrease. During the week ending July 26th, an estimated 2.6 million people had the virus. This is a significant fall from 3.2 million people in the previous week. The number of people in hospital with Covid has also fallen.
Despite the positive news, with Covid infections tailing off across the country, experts have warned that infection numbers remain high. In England, the latest statistics indicate that around 1 in 25 people would have tested positive for the virus at the end of July. The ONS data is collected using random samples, which provide the most accurate estimates of infection rates in the absence of mass testing.
The most recent ONS report confirmed that infection rates were decreasing in every part of the UK. In England, figures fell from 1 in 20 people to 1 in 25 people, while there was a significant reduction in numbers in Wales (1 in 30 from 1 in 19). There were small decreases in Scotland (1 in 20 from 1 in 19) and Northern Ireland (1 in 17 from 1 in 16).
Dr Rhiannon Yapp, co-lead for the ONS Survey, explained that there have been reductions across all parts of the country but infection rates "still remain high." The data is monitored continuously. The summer holidays provide interesting information for analysts due to the increase in travelling and socialising.
Increases in infection rates during June and July were largely due to the prevalence of Omicron sub-variants B.4 and B.5, which spread very quickly.
The vaccination programme has helped to limit the number of hospitalisations and deaths in comparison with earlier waves of Covid. The government recently confirmed that all over 50s will be offered booster vaccines in the autumn. Priority groups, including those aged over 75, will be called for their jabs first to reduce the risk of severe disease as winter approaches.
For more news please click here