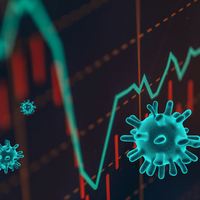 Covid rates are continuing to fall across the UK. The latest figures from the Office for National Statistics show that around 1 in 17 people would have tested positive in the week ending on April 16th.
A few weeks ago, ONS data suggested that 1 in 13 people would test positive for Covid in England. Since March, numbers have been falling. Currently, there are approximately 3.76 million people infected with the virus.
Additional data from the Office for National Statistics indicates that around 70% of the population in England has now had coronavirus.
Experts have welcomed the data but warned that levels of infection remain high. The figures from the ONS are particularly useful now that free testing is not widely available, as they provide an accurate overview of how high infection rates are by testing randomly. Free testing ended in England on April 1st. Limited free testing is still available in Scotland and tests will also be available under certain circumstances in Wales and Northern Ireland until the end of June.
Duncan Cook, deputy director for the Covid-19 infection survey, said that it was positive news that infection rates were falling across the UK. The news from Wales is particularly good, as rates have been stubbornly high for several weeks. The latest figures show that the numbers are decreasing across all age groups. Despite welcoming the statistics, Mr Cook stressed that infection rates remain high.
Health experts have urged people to continue to be cautious and follow the guidelines for hand washing, personal hygiene and testing if they have symptoms.
The information from the ONS shows that the Omicron BA.2 subvariant continues to be the dominant strain. The sub-variant is more transmissible than the original Omicron variant, which caused case numbers to spike earlier in the year.
Data also indicates that hospital admissions are falling. At the end of March, daily admissions peaked at around 2,400. The number has now fallen to 2,200 per day. There are currently around 350 patients who require ventilators in hospitals.
For more news please click here