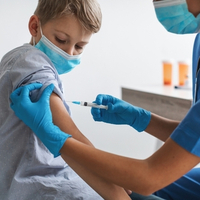 Covid vaccines are now available for children aged between 5 and 11 years old in England.
Parents and carers can book appointments for their children online and a number of sites up and down the country will be offering vaccines from Monday 4th April. Advisers said that vaccinating younger age groups will help to "future-proof children's defences."
News of the next stage of the vaccination rollout comes as infection rates continue to rise across the country. Record numbers of people tested positive last week, according to data from the Office for National Statistics. Figures show that 4.9 million people in the UK currently have the virus.
The Covid-19 vaccine is already available for children in Scotland, Wales and Northern Ireland.
Although children are not at high risk of developing severe symptoms if they contract Covid-19, the JCVI (Joint Committee for Vaccination and Immunisation) recommended vaccines for younger children to protect those who could experience serious symptoms and reduce the risk of hospitalisation in future waves.
Under new guidelines, around 5 million children will be eligible for the jab from April 4th. The vaccine will be a low dose, with two jabs given at least twelve weeks apart. The vaccine for children is around a third of the strength of the dose given to adults.
Dr Nikki Kanani, GP and deputy lead for the NHS vaccination programme, encouraged those who are eligible to come forward for the vaccine, explaining that vaccination remains the best form of defence against the virus. Dr Kanani said that she will be booking her daughter, who is 10, in for the jab and urged other parents to get information and consider taking their children for the vaccine.
Sajid Javid, health secretary, stressed that vaccination is a personal choice for parents to make and said that the NHS will continue to prioritise those who are most vulnerable. Children will be vaccinated alongside priority groups who are receiving the fourth dose. This includes over 75s and younger people who have conditions that compromise their immunity.
For more news please click here