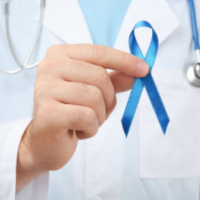 The death of Dame Deborah James has prompted a surge in traffic to the NHS website's pages on bowel cancer.
Dame Deborah James died on Tuesday 28th June at the age of 40. She was diagnosed with terminal bowel cancer in 2016 and recently revealed that she was undergoing end of life care in a hospice.
Following the announcement of Dame Deborah's death, the number of daily visits to the NHS website's bowel cancer symptoms page reached 23,000. This was an increase of 21,000 hits from the previous day.
Dame Deborah was hailed for her tireless work campaigning to raise awareness of bowel cancer and encourage people to get checked. She hosted a podcast, blogged about her cancer journey and spoke openly on radio and TV shows. She was part of a trio of presenters of the hugely successful BBC podcast, You, Me and the Big C and recently received her damehood from the Duke of Cambridge at her family home.
As well as raising awareness of bowel cancer symptoms, Dame Deborah also raised more than £7 million for charity.
NHS chief executive, Amanda Pritchard, described Dame Deborah as "an inspiration to us all" and the health secretary, Sajid Javid, said that she had left "an incredible legacy." Mr Javid added that the surge in visits to the NHS bowel cancer pages show how inspirational and "powerful" she was. Her campaigning and candour will encourage people to "get informed, get checked and speak up, he added."
Symptoms of bowel cancer include blood in the stools, unexplained weight loss, changes in bowel habits, bloating, abdominal pain, tiredness and feeling like you haven't fully emptied your bowels after going to the toilet. Doctors strongly recommended getting checked if any of these symptoms are detected.
Bowel cancer screening is currently available for people aged between 60 and 74, but the programme is expanding. In the next four years, adults aged between 50 and 59 will also be able to access regular, free bowel cancer screening.
For more news please click here