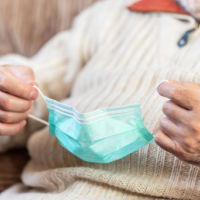 Experts have warned of a 'notable rise' in Covid cases among older people.
The latest figures from the Office for National Statistics (ONS) showed that 1 in 37 people would have tested positive for the virus in the UK during the most recent round of random sampling in October. This is a significant increase from 1 in 50 during the previous week. Random testing suggests that around 1.7 million people have Covid across the UK. This equates to 2.7% of the population.
Covid infection rates have risen across all age groups, but experts are particularly worried about increases among older people. The latest figures show that 3.7% of over 70s have the virus.
ONS data indicates that 1 in 35 people in England have Covid. Rates are slightly lower in Wales (1 in 40), Northern Ireland (1 in 40) and Scotland (1 in 50).
Deputy director for the ONS Covid survey, Sarah Crofts, said that infections have been rising steadily for a few weeks and suggested that close monitoring was required in the run-up to the winter months. There is concern about the prevalence of Covid and flu, with experts warning of a 'twindemic.'
Dr Mary Ramsay, from the UK Health Security Agency, said that high rates among older people were "particularly worrying" due to increased risks of more severe disease. All over 50s are encouraged to get a booster vaccine. Anyone in this age group in England can now book their booster jab. Flu vaccines are also available.
In addition to increasing infection rates, the number of patients in hospital with Covid is also creeping up. On the 12th of October, there were 10,608 patients in hospital with Covid, which is an increase of 10% from the previous week. Over 60% of those who test positive are undergoing treatment for a different condition.
For more news please click here