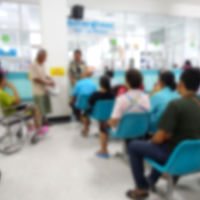 New data suggests that long waits in A&E departments hit a record high in October.
Figures from NHS England show that the number of people waiting longer than four hours in major A&E departments reached over 550,000. This is a significant increase from 492,000 people in September.
NHS representatives said that October 2022 was one of the busiest months on record for A&E units and ambulance calls. There are concerns that departments will get even busier in the weeks ahead, with increased risks during the colder winter months.
The statistics show that 69% of patients in minor injuries units were either seen, admitted or discharged within 4 hours in October. This is a decrease of 2% since September. The four hour target for the NHS in England is 95%.
The Society of Acute Medicine described the situation as "unacceptably poor", adding that it was likely to get worse between November and February. Winter is notoriously busy for the NHS and this year could be even worse with resources stretched and high rates of Covid and flu expected. Staff shortages and a nursing strike could also exacerbate problems.
As well as waiting longer to be seen in A&E, patients also face a lengthy wait for beds. Figures show that over 43,000 patients had to wait 12 hours or more for a bed following assessment in A&E. The number has increased by almost 10,000 since September and is the highest on record since 2010. Ambulance response times have also risen.
Dr Tim Cooksley, from the Society of Acute Medicine, said that the data confirms that many NHS departments were "unquestionably struggling" with pressure at an "unsustainable level." Staff morale is low and standards are falling, despite the best efforts of NHS teams, which are going above and beyond to deliver the best care possible for patients.
Professor Stephen Powis, medical director at NHS England, admitted that October had been a "challenging" month for the NHS, which faces a "tripledemic of Covid, flu and record pressure on emergency services." More people have attended A&E or called an ambulance than during any other October.
Prof Powis said that pressure was mounting in the run-up to winter due to the prevalence of seasonal illnesses and Covid and difficulties discharging thousands of patients who don't need to be in hospital. There are currently around 13,000 beds per day occupied by patients who could be discharged if there was suitable support outside of the hospital environment.
For more news please click here