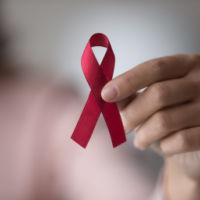 Free HIV home tests will be available in England this week in a bid to boost testing rates, which have dropped since the pandemic.
As part of a government campaign to encourage more people to get tested for HIV, people in England will be able to order a free home test, which gives a result within 15 minutes. The tests fit through the letterbox and are very easy to use. They test a tiny sample of blood from a finger prick. A reactive result means that there is a possibility that the individual has HIV. If this is the case, they can arrange a check at a local clinic. A negative test result indicates that the virus was not detected.
Research suggests that almost 4,500 people could be living with undiagnosed HIV in England. Testing rates have dropped since 2020, particularly among heterosexual men and women. Since before the pandemic, testing rates among women and heterosexual men have fallen by 22% and 44% respectively.
Regular testing is incredibly beneficial for those who are at risk of HIV, as HIV medications and therapies can reduce the level of the virus to a point where it cannot be passed to others. According to the Terrence Higgins Trust (THT), most people who get HIV contract the virus from an individual who hasn't been diagnosed.
The free home testing scheme coincides with National HIV Testing Week and is part of a wider government plan to eliminate new cases of HIV by 2030.
The Terrence Higgins Trust has recently joined forces with Eastenders to work on a storyline, which sees Zack Hudson diagnosed with HIV. The goal is to raise awareness of HIV among heterosexual men and women. Head of health programmes at the trust, Taku Mukiwa, explained that HIV is most prevalent among gay and bisexual men and individuals with black African heritage in the UK, but anyone who is sexually active can contract the virus.
Testing is crucial because symptoms of HIV can develop long after exposure to the virus. Using condoms is the most effective way to reduce risks when engaging in sexual activities and intercourse.
For more news please click here