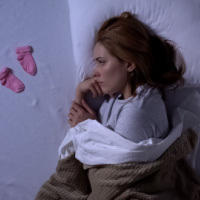 The government has pledged to improve care for women who lose babies during pregnancy.
Ministers have announced a raft of new measures designed to support women who lose babies during pregnancy as part of new guidelines to enhance women's healthcare. The guidance will be implemented following an independent review of care for pregnant women in England.
Key issues include offering parents who lose a baby before 24 weeks the chance to recognise their loss with a certificate, providing more support for families affected by miscarriage and identifying better ways to store remains with more dignity. The latter comes after investigations found that some women had been advised to remove remains from toilets and store them in a fridge at home.
The campaign for better care for women who lose babies during pregnancy has been supported by charities, campaigners and celebrities, including Myleene Klass. TV star and musician, Myleene Klass, lost four babies during pregnancy and said she wanted to use her platform to push for change to prevent women from having to deal with experiences that made a heartbreaking situation even more difficult to deal with. She described the review as one of her proudest life achievements.
The review also focused on other areas of women's health, including updating the NHS website to provide more information and better-quality resources for those researching IVF and HRT (hormone replacement therapy). BBC presenter, Naga Munchetty, was recognised by the independent panel for her work in campaigning for improved awareness of adenomyosis, a painful womb condition.
In total, the Pregnancy Loss Review made 73 recommendations for enhanced care for people who lose babies before 24 weeks. In the UK, around 500 women have a miscarriage every day. Many occur at home without pain relief or access to physical or mental health support.
From October, parents will be offered a certificate, which acknowledges their loss. At present, this is only an option after 24 weeks, when a loss is classified as stillbirth. Additional commitments include identifying ways to provide 24-hour support and advice for women who have experienced a miscarriage, developing a bespoke container to store remains in a dignified and respectful way, improving testing for women who have multiple losses and offering access to private spaces in hospitals for grieving families. The report also recommended better education in schools to improve awareness of types of baby loss and signpost sources of help and advice.
For more news please click here