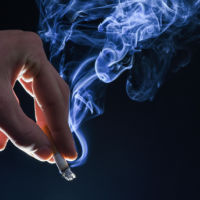 Health campaigners have called for a ban on the sale of nicotine pouches to under 18s.
Representatives from Action on Smoking and Health (Ash) have urged the government to introduce new legislation, which would close a loophole enabling under 18s to purchase nicotine pouches.
Nicotine pouches are sold in many UK supermarkets and stores. They are placed under the lip and can be bought by under 18s despite the fact that other tobacco products are banned. Cigarettes and e-cigarettes cannot be sold to customers under the age of 18 but the same rules don't currently apply to nicotine parcels.
Hazel Cheeseman, from Ash, suggested that tougher legal regulation was required to restrict access to nicotine pouches, regulate marketing of nicotine products and eradicate free samples. Ash, an anti-smoking charity, has described the lack of laws related to nicotine pouches as the "Wild West."
Currently, manufacturers and retailers can sell nicotine pouches to under 18s and Ms Cheeseman said that there is "extensive promotion" of the products. Pouches are available in a wide range of flavours and they usually come in packs of 20. The average cost is around £6-£7 per pack. Some brands have already introduced age restrictions but there is no "regulatory framework" that covers all nicotine products.
A survey conducted by Ash found that around 1 in 25 people had tried nicotine pouches. Awareness of the products was highest in young people aged between 18 and 24.
A statement from the Department of Health and Social Care confirmed that a committee was currently reviewing the effects of nicotine pouches. A report from the Committee on Toxicity of Chemicals in Food, Consumer Products and the Environment (COT) is expected to publish a report before the end of the year.
Calls to review the current legislation have been backed by Dr Leonie Brose, a reader in nicotine research at King's College London. Dr Brose said that some people who want to quit smoking can benefit from using nicotine products but new users should avoid them because they are addictive.
For more news please click here