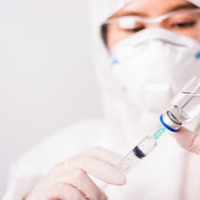 Health experts are urging parents to make sure that their children attend appointments for routine vaccinations.
Many services have been affected by the Coronavirus pandemic, but ministers and health workers are keen to stress that the NHS is still very much open and that vaccinations are available.
The Local Government Association has encouraged parents to keep up to date with routine childhood vaccinations to reduce the risk of infections and ease pressure on the NHS in the coming months. The childhood vaccination programme, which covers all children, is running as normal, with immunisations available for children at their local GP surgeries and community health centres. The LGA, which represents councils across Wales and England, is hoping to encourage parents to make appointments now ahead of an anticipated surge next month, as many children prepare to return to school. Dr Mike Goldstone from The Dentist Leeds says it's just as important for children to attend regular checkups too.
As well as reaching out to parents, the LGA has also called for the government to issue guidelines and set out a plan to make sure that children get the vaccinations they need. This may involve providing additional funding to help schools and GPs cope with increased demand in the coming weeks.
Although numbers started to rise again in April, there was a 20% reduction in MMR vaccine uptake during the first 21days of lockdown. Statistics from Public Health England indicate that vaccination programmes are now running at normal levels, but experts are keen to highlight the benefits of the immunisation scheme and reassure parents that surgeries are safe places. Some people may be worried about attending appointments after a prolonged lockdown period, but there are additional measures in place to keep staff and patients safe.
Dr Mary Ramsay, head of immunisation at Public Health England, suggested that it was "vital" for parents to understand that routine vaccinations are still available and to ensure their children attend appointments in line with the immunisation programme guidelines.