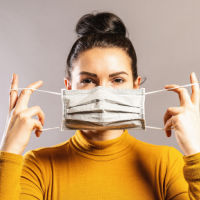 Hospital trusts in England have issued new guidance for patients and visitors in response to soaring Covid rates.
Kettering and Northampton general hospitals have introduced new measures to try to stem the spread of infection and protect vulnerable patients. Visitors will now be required to wear face coverings in all areas of the hospital and visiting hours have been restricted in some departments. The move comes as rates of infection in the hospitals and the wider community have increased significantly in recent weeks.
Face masks will be compulsory for visitors and on some wards, visiting will be restricted to one visitor per day for one hour. There are different rules in place for maternity and neonatal wards. The trusts also suggested that they were making "reasonable adjustments" for paediatric wards and patients with learning disabilities and dementia.
Representatives from the trusts have also advised patients attending outpatient appointments and Accident and Emergency to try to avoid bringing others with them.
The most recent data from the Office for National Statistics show that Covid rates are rising in England, with a noticeable uptick in hospitalisations among older people. Hospitals are acting to try to prevent infections and protect those who may be at risk of severe symptoms.
Patients who have appointments booked and visitors who plan to travel to the hospitals to see friends or relatives are advised to look online for updates and to read instructions carefully when entering clinical areas.
More hospitals and healthcare settings could follow suit and introduce additional measures in the days and weeks ahead if infection rates continue to rise.
In addition to protecting patients and staff in hospitals, health experts have urged people to tread cautiously when visiting elderly relatives and visiting public spaces.
Limiting contact with vulnerable individuals will lower the risk of transmission. Wearing a face covering is also recommended along with frequent handwashing.
Health experts have also encouraged those who are eligible for the flu vaccine and Covid booster to come forward.
For more news please click here