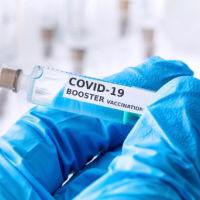 Health bosses on the Isle of Man have urged pregnant women to have a Covid booster.
A spokesperson for Manx Care said, "Extensive real-world data has shown that vaccines are safe and highly effective for pregnant women." Vaccines have been recommended for pregnant women since April 2021 and in December 2021, pregnant women were classed as clinical at-risk category by the JCVI (Joint Committee for Vaccination and Immunisation).
With winter upon us and seasonal illnesses circulating, at-risk groups have been urged to come forward for booster jabs. Vaccines are available for over 50s, pregnant women and people who have certain underlying health conditions, as well as health and social care workers and people who live with vulnerable individuals.
Vaccines help to reduce the risk of severe symptoms of Covid-19 and represent the "best way to protect against severe Covid-19 infection in pregnancy for both women and babies, including admissions of women to intensive care and cases of premature birth," the spokesperson added.
The island's health care service launched the booster programme at the start of autumn in a bid to try to vaccinate as many people as possible before winter arrived. Health experts anticipate high levels of Covid-19 and flu this winter. Vaccinations help to protect against severe symptoms and lower the risk of hospitalisation and deaths linked to Covid.
Those who are eligible and have not yet had a booster vaccine are encouraged to make use of local vaccination services and centres. Boosters are available free of charge and can often be given at the same time as the flu jab for those who are eligible for both vaccines.
Symptoms of Covid include a persistent, new cough, loss of taste and smell, a high temperature, headaches, fatigue, aches and pains, a blocked or runny nose, a sore throat, breathlessness, a loss of appetite and diarrhoea.
For more news please click here