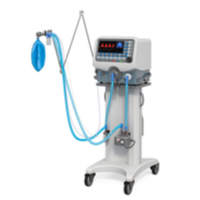 The Mercedes Formula 1 team has responded to the government's call for help with manufacturing emergency medical equipment to treat coronavirus patients.
The team has developed a new breathing aid, which could help to keep patients out of intensive care units. Engineers from University College London worked with the F1 team and clinicians from UCLH to build the new device. The machine delivers oxygen to the lungs without the need for a ventilator, and could ease pressure on intensive care units at a time when every bed counts. Forty of the new CPAP (Continuous Positive Airway Pressure) devices are already being used in four hospitals in London, including UCLH.
The CPAP device is currently in short supply, and manufacturing teams are working hard to boost production after the new equipment was approved by the Medicines and Healthcare products Regulatory Agency (MHRA).
In addition to the incredible efforts of the Mercedes team, businesses across the UK are working to bolster ventilator supplies. Several leading names in the manufacturing, engineering and technology industries have joined forces to form The VentilatorChallengeUK consortium. Currently, Siemens, Rolls-Royce, BAE Systems, Ford and Airbus are working tirelessly to increase ventilator production, switching their traditional processes and systems to build around 10,000 ventilators. Production on the government's order is due to begin at the beginning of next week.
As the number of cases of coronavirus continues to increase, hospital intensive care units are coming under increased pressure, and this means that demand for ventilator beds is growing. The demand will outweigh the supply if extra units are not produced quickly. The government is working with firms to increase ventilator production and to free up as many ventilator beds across the country as possible. Extra staff members have been recruited, including up to 20,000 doctors and nurses who are coming out of retirement, and the new NHS Nightingale Hospital, which is located in London's ExCel Centre, is due to open this week. The temporary hospital will initially have space for 500 patients, but this could rise to 4,000 if more beds are needed. Similar facilities are also due to open in Birmingham, Manchester and Cardiff.