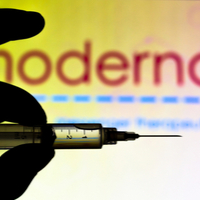 The European Medicines Agency (EMA) has approved the Moderna vaccine for teenagers.
The Moderna vaccine will now be available to vaccinate 12-17-year-olds across the EU. The vaccine is the second to be approved for teens after the Pfizer-BioNTech jab. The US-made vaccine requires two doses with an interval of at least four weeks.
The decision by the EMA is likely to prompt new guidelines set out by the European Commission on vaccination for teenagers. Studies by the EMA suggested that responses to the vaccine in 12-17-year-olds were very similar to those in 18-25-year-olds.
The Moderna vaccine is already being used to vaccinate young adults in the EU and many countries are expected to encourage 12-17-year-olds to have the vaccine following EMA approval. In some nations, including Germany, under 18s have already been vaccinated and children with underlying conditions have been encouraged to consider having the jab in France.
At present, no decision has been made about vaccinating children in the UK and the JCVI is set to outline proposals in the coming weeks. There is a debate over the use of vaccines for teens, as the risks associated with Covid-19 are very small in young people and there are several countries where vaccination rates remain extremely low.
Some experts argue that it makes more sense to spread the vaccines among adults before including children in the programme, especially as new variants, including the Delta variant first identified in India, have the potential to spread rapidly.
News of EMA approval comes as the latest statistics suggest that over 46 million first doses and 37 million second doses of the vaccine have now been given in the UK. This figure means that around 70% of UK adults are now fully vaccinated and almost 90% have had one dose.
For more news please click here.