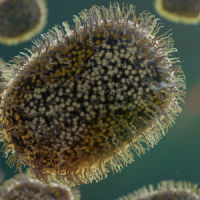 The mpox vaccine programme will be extended in London after a spike in cases, it has been announced.
The immunisation programme, which protects against mpox, previously known as monkeypox, was scheduled to stop at the end of July. In London, where has been a surge in the number of cases recently, the scheme will be extended. The programme will finish as planned in the rest of the country, the UK Health Security Agency (UKHSA) has confirmed.
Once the immunisation programme ends, people from other parts of the country who are eligible for the injection and want to have the vaccine will still be able to access the jab, but they will have to visit London-based clinics.
In the last few weeks, eleven new cases of mpox have been identified in the capital, prompting the UKHSA to keep the vaccination scheme running in London.
People who have an elevated risk of contracting mpox were advised to have the vaccine last summer when there was a global outbreak in cases. A single dose can enhance protection by 78%. Two doses of the jab extends protection against the virus.
Case numbers have fallen significantly since the global outbreak in 2022. During the peak, 35 cases per day were recorded in the UK. In 2023 so far, there have only been 21 confirmed cases, but a recent spike in cases in London has caused concern. Since the start of May, 11 cases have been reported in the city. Most people who got the virus had not been immunised.
Mpox causes distinctive skin lesions and a rash. It can also cause headaches, a fever and muscle pain. The rash can last for several weeks.
Professor Susan Hopkins, chief medical adviser at the UKHSA, said that it was critical to respond appropriately to a recent spike in cases in London to prevent the virus from spreading. Extending the vaccination programme will enable those who are eligible to have the jab and reduce the risk of infected people spreading the virus.
Dr Claire Dewsnap, president of the British Association for Sexual Health and HIV, urged anyone who is eligible for vaccine to come forward, especially as cases could rise during the summer when people mix more at events like festivals.
Those who are eligible include gay and bisexual men, other men who have sex with men and people who have multiple sexual partners or engage in group sex.
For more news please click here