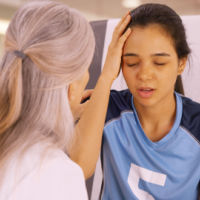 New national concussion guidelines are set to be introduced across grassroots sport.
Under the new guidance, which will be applied across the UK, anyone who has suspected concussion will be advised to stop playing immediately and avoid exercise for at least 24 hours. Individuals should also take a 21-day break from competitive sport and contact NHS 111.
The advice covers all sports, including rugby, football and other activities and will apply to participants across grassroots clubs and teams. The guidelines are designed to encourage players, referees, coaches, team managers and parents to protect against the effects of serious head injuries.
Prof James Calder, a surgeon who worked with the government on drafting the updated guidance, said that it's important to encourage people to participate in sports and embrace active lifestyles, but it's also critical to recognise the risks of concussion. The new concussion guidelines will help to ensure that cases of concussion and suspected concussion are managed effectively.
Concussion is a brain injury usually caused by impact, which can affect mental function and result in symptoms ranging from a headache and feeling dazed to loss of consciousness.
Updated guidelines, which were drawn up by an expert panel based on research carried out in Scotland, suggest that anyone who may have a concussion should be taken out of the game immediately. The next step is to contact NHS 111 or seek urgent advice for red flag symptoms, which include memory loss, loss of consciousness and changes in speech. Individuals who have these symptoms should be assessed by medical experts on the pitch or taken to Accident and Emergency.
Most people who have a concussion experience mild symptoms and only around 10% lose consciousness, but concussion can be deadly. Work on new guidelines began in 2011 when 14-year-old Ben Robinson died after a school rugby match. Ben's death was caused by second-impact syndrome, which occurs when the brain swells very quickly due to repeated concussions. Peter, Ben's father, has campaigned passionately for changes in grassroots sport since the tragic loss of his son.
The new guidance also indicates that individuals should not be left alone or be allowed to drink alcohol or drive for 24 hours after the incident.
For more news please click here