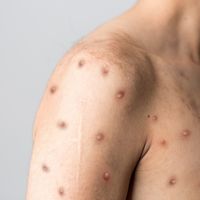 The UK Health Security Agency (UKHSA) has issued new guidelines to try and stem the spread of monkeypox.
The UKHSA is advising anyone who is at high risk of having contracted monkeypox to isolate for 21 days. This applies to anyone who has been in direct contact with a confirmed case. Contacts have also been encouraged to provide their details for tracing, avoid travelling and stay away from people who are vulnerable, including pregnant women, children under the age of 12 and people who have compromised immunity.
The UK has now confirmed more than 20 cases of monkeypox and several countries have identified cases, including France, Germany, Holland, Australia, Spain, the US, Canada and Israel.
Monkeypox is a rare virus, which is most commonly found in parts of Central and Western Africa. It was first identified in monkeys and does not usually spread easily via human contact. It can be transmitted through close physical contact, including sexual intercourse.
Symptoms of monkeypox include a fever, muscle aches and raised spots on the skin, which develop into blisters. In the vast majority of cases, monkeypox is a mild disease, which usually subsides within 2-4 weeks. There have been a very small number of deaths recorded in Central and Western Africa. The WHO (World Health Organization) has not reported any deaths outside of the region.
People are considered at high risk if they have had household or close physical contact with somebody who has the virus or they have changed bedding used by an infected person without wearing PPE.
Dr Susan Hopkins, chief medical adviser for the UKHSA, confirmed that there are cases of community transmission in the UK, which are not linked to travel to Africa. Most cases have been identified in gay and bisexual men. Dr Hopkins urged people to engage in safe sex and encouraged anyone who has symptoms to seek expert advice and limit contact with others.
For more news please click here