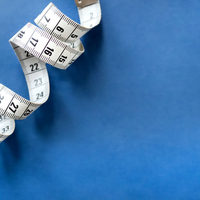 New guidelines recommend keeping your waist measurement to half of your height to reduce the risk of weight-related health problems.
Updated guidance from NICE suggests that people should try to ensure that their waist measurement is no more than half that of their height in a bid to lower the risk of disease. The measurement, which can be used alongside BMI (body mass index), is useful for gauging the risk of conditions linked to carrying excess weight around the middle, including type 2 diabetes and heart disease.
BMI is used widely by health professionals, but it is not always an accurate indicator, as it doesn't take weight around the stomach into consideration. In addition to urging people to keep their waist measurement to lower than 50% of their height, NICE has also updated guidance for people from Asian and black ethnic groups, who are at high risk of fat build-up around the waist. This is known as central adiposity. These groups should use redefined BMI categories in addition to waist measurements.
The new guidelines are designed to encourage people to keep an eye on the amount of weight they carry around their middle in a bid to lower the risk of type 2 diabetes, high blood pressure, heart disease and stroke. The guidance suggests that if you are 5'9, for example, your waist measurement should be no higher than 34 inches.
Waist circumference can be used for most adults, including those who are very athletic and muscular. It is not a suitable measure for pregnant women, young children and adults with a BMI of over 35.
Recent figures suggest that 36% of adults in England are overweight and 28% are obese. Weight-related health issues cost the NHS an estimated £6 billion per year. Prof Naveed Sattar, professor of metabolic medicine at the University of Glasgow, explained that it's impossible to know if people will take this message on board at the moment, but said there was "no harm" in trying new ways to get people to think about their health. Dr Benji Dhillon from Define Clinic says "we see a lot  of patients in our clinic who are short and muscular who would have a BMI that puts them in a high risk group yet have small waist measurements."
Waist-height ratio was described as a "simple, easy-to-use measure that identifies people who are at increased health risk and would benefit from weight management support to improve their health" by Prof Rachel Batterham, a consultant in obesity, diabetes and endocrinology.
For more news please click here