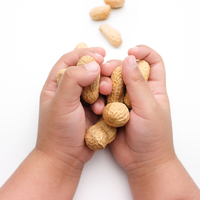 A new study suggests that a treatment for peanut allergies could be on the horizon.
The Palisade study, which has been published in the New England Journal of Medicine, involved almost 500 children aged between 4 and 17 year olds. At the start of the study, none of the youngsters, who were from the US and Europe, were able to tolerate even a tenth of a single peanut dose. Over the trial period, researchers gave participants a tiny dose every day. After a year, two-thirds of the children could tolerate a serving of two whole peanuts.
Speaking to the BBC about the trial, 6-year-old Emily Pratt said that the pilot had made a massive difference to her. She couldn't have anything with nuts, including birthday cakes at friends' parties, and now she's able to eat a much wider range of foods. After the trial, Emily is able to tolerate around seven peanuts, which means that she can eat foods that may contain traces of nuts.
Emily's mum, Sophie, said that her daughter's allergy had been a constant source of anxiety and stress, as many foods that you never expect to contain nuts can still contain traces. Before the study, Sophie had to comb food labels meticulously, and Emily missed out on many foods, which sometimes upset her, especially at birthday parties and festive gatherings. Emily had a very severe allergy, which meant that even tiny traces could trigger a serious reaction. Now, Sophie is much more relaxed, and Emily is able to enjoy a more diverse selection of foods.
Prof George du Toit, the chief investigator in the UK-based section of the research team and a consultant at Evalina London Children's Hospital, described the results as "ground-breaking." The findings suggest that children with serious allergies could be protected from being exposed to foods that could pose a risk in cases where allergy information is unavailable and there is a risk of accidental contact.
The number of children diagnosed with peanut allergies in the UK has increased by more than 50 percent in the last 20 years, so the study could have a real impact on hundreds of families in the coming years.