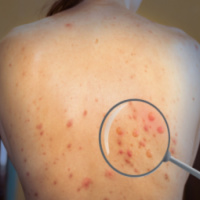 New figures from the World Health Organization show that there have now been more than 780 cases of monkeypox reported outside of Africa.
The number indicates that cases have tripled in a week. The WHO also suggests that the figure could be an underestimate. At present, the global risk level is set at 'moderate.'
Monkeypox is a viral infection, which was first identified in monkeys. It causes blisters to form on the skin, as well as making people feel unwell. Most cases are mild, but there is cause for concern, as this is the first time that the virus has spread extensively outside of Central and Western Africa.
So far, the WHO has recorded cases in 27 countries where the virus is not endemic. This means that 27 nations that would not normally report cases have confirmed infections. Most new cases have been identified in North America and Europe. There have been small numbers of cases in Mexico, Morocco, Argentina and the United Arab Emirates.
Outside of Africa, the UK (207) has reported the highest number of cases followed by Spain (156) and Portugal (138).
In a recent update, WHO representatives indicated that new cases had been found outside of existing chains of infection meaning that the virus was spreading without being detected. The organization is expecting case numbers to continue rising and there is a high risk of the virus spreading to more countries.
The risk to the general public is 'low,' according to the WHO. However, if the virus spreads rapidly in countries where it is not usually identified, the risk level could increase to 'high.' There have been no deaths caused by the recent outbreak of monkeypox.
Symptoms of monkeypox include fever, headaches and muscular aches and pains, as well as blisters, which are filled with pus. In this outbreak of the virus, experts say that many people are presenting with pustules on the skin before other symptoms, which is not typical of the virus.
The advice from public health bodies in the UK is to seek advice if you have symptoms of monkeypox and to isolate if you have had close contact with somebody who has the virus.
For more news please click here