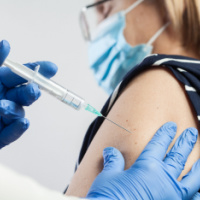 NHS England is launching a spring Covid booster programme to protect the most vulnerable.
From April 5th 2023, people with the highest risk of developing serious symptoms will be eligible for a spring booster injection. It is estimated that around 5 million people in England will be invited to have a booster dose, including those aged over 75, care home residents and people with compromised immunity.
The first phase of the spring booster rollout will target older care home residents. From the middle of April, more people will be able to come forward, with booking for appointments opening online from April 5th.
The booster campaign has been launched following the publication of new guidelines from the JCVI (Joint Committee on Vaccination and Immunisation), which recommends a booster injection for the most vulnerable. Representatives said that data confirms that older people are more likely to experience severe symptoms of Covid and can therefore benefit from additional protection.
Steve Russell, head of vaccinations and screening for the NHS, said that it's important that we remember that for the most vulnerable in society, Covid can be a major illness that can result in hospitalisation. The spring booster rollout is designed to provide a shield and minimise the risk of older people and those with weakened immune systems developing serious symptoms and complications.
Dentists from GM Dental Barnet, Rochester & Kent have mentioned that cases of Covid have recently risen amongst their patients and they are still taking the strictest precautions for cross-infection control.
The most recent NHS data suggests that around 8,000 people are in hospital in England with Covid. The NHS has treated over one million patients with the virus since the start of the pandemic in March 2020.
The NHS will be sending invitations to those who are eligible for the booster vaccine via the NHS app, letters and text messages and patients who are included in the programme can also book online via the NHS website.
There are around 3,000 sites across the country offering booster vaccines, including GP surgeries and community pharmacies. The programme will run until the 30th of June. More information about eligibility is available on the NHS website.
The most common symptoms of Covid include a new cough, loss of taste and smell, a fever, breathing difficulties and shortness of breath, headaches, muscle aches and tiredness.
For more news please click here