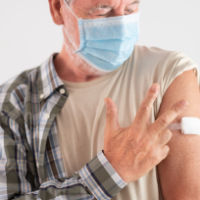 Officials from NHS England are urging anyone who is eligible for a Covid booster vaccine to come forward before Christmas, as case numbers creep up.
The latest statistics show that cases are steadily rising in England and Northern Ireland. In the week of the 26th of November, around 1.1 million people would have tested positive. This equates to approximately 1.7% of the population.
Prior to the recent rise in Covid cases in England, levels had been declining steadily since October. Health officials are now encouraging anyone who hasn't had their booster who is eligible to have the jab before Christmas. During the festive season, people are mixing more and this could cause case numbers to continue increasing. There are also fears about high levels of flu circulating at the same time as Covid.
Director of vaccinations and screening at NHS England, Steve Russell, said that people should take advantage of boosters and flu vaccines in the run-up to the festive break to ensure "maximum protection over Christmas." In addition to community hubs, GP practices and pharmacies, pop-up vaccination centres will be opening at food banks, places of worship and local health centres, NHS England has confirmed.
The latest data from the Office for National Statistics (ONS) shows that Covid infection rates have increased in London, Yorkshire and the Humber, the South East and the East of England. The highest numbers were recorded in children aged over 11 and adults in their early 20s. Infection rates have also risen in Northern Ireland for the first time in over a month. The data is uncertain in other parts of the UK, according to Michelle Bowen from the ONS.
The latest estimates suggest that around 1 in 60 people in England and Scotland, 1 in 70 people in Wales and 1 in 50 people in Northern Ireland would test positive.
Covid boosters are currently available for over 50s, health and social care workers, people who have certain underlying health conditions and those who live with vulnerable people.
For more news please click here