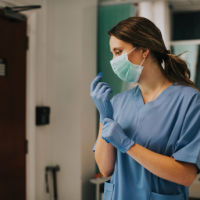 Nurses are set to strike over the May bank holiday after the Royal College of Nurses rejected the latest pay offer from the government.
Members of the Royal College of Nurses Union voted against the pay offer, which was accepted by members of the Unison union. The ongoing dispute means that RCN nurses will go on strike between April 30th and May 2nd. While Unison members voted overwhelmingly in favour of the offer, 54% of RCN members turned it down.
The government said that the move was incredibly concerning, as several critical departments and services will be affected, including emergency departments, cancer care and intensive care.
The Unison union, which represents some nurses, as well as ambulance crews, voted in favour of accepting the proposed pay offer of a 5% rise for 2023/2024 in addition to a one-off lump-sum payment of a minimum of £1,655. The one-off payment is designed to top up last year's earnings for nurses.
This will be the first time that industrial action has resulted in nurses taking leave from intensive care and critical care services. During previous strikes, these services have not been disrupted.
Pat Cullen, chief executive and general secretary of the RCN, said that the government needs to go further and offer nurses more money before union members will vote in favour. Sara Gorton, from Unison, accepted that many workers would have wanted a bigger pay rise but suggested that this was the best offer on the table following lengthy negotiations.
Jeremy Hunt, the chancellor, said that a lot of progress has been made on the pay offer for nurses and urged union members who voted against the latest deal to reconsider in the interest of staff and patients.
For more news please click here