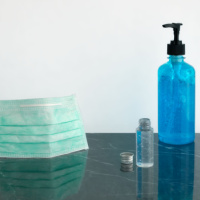 Data from the Office for National Statistics shows a continued decrease in Covid rates during August.
The latest figures suggest that 1 in 45 people would test positive for Covid. During June and July, the figure rose to 1 in 15 in some parts of the UK.
ONS data is seen as the most accurate indicator of Covid rates across the UK, as mass testing is no longer conducted and restrictions linked to isolating have been lifted. Random sampling overseen by the ONS gives an insight into how many people would test positive at a given time. The latest figures for August show that 2.2% of the population had the virus. This equates to approximately 1.4 million people. The number of people in hospital has also fallen and the figures for Covid deaths is also decreasing.
Covid rates have been trending down through August but ONS experts will continue to monitor data as schools return and students go to college and university. Sarah Crofts, head of analytical outputs for the Covid-19 infection survey run by the ONS, explained that the numbers are going in the "right direction" and rates have fallen to their lowest since mid-June when Omicron sub-variants BA.4 and BA.5 drove a surge in cases. Rates are lowest among young children but experts will continue to collect and evaluate data as children go back to the classroom.
As autumn approaches, the NHS will launch the next phase of the booster rollout. During September, priority groups will be invited to attend vaccination sessions to increase immunity. Many people will be able to have a flu and Covid vaccine at the same time. At the moment, the booster scheme will cover over 50s, health and care workers and people who are more vulnerable to severe symptoms, due to underlying health conditions.
For more news please click here