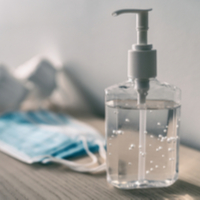 The latest data from the Office for National Statistics shows that Covid infection numbers are rising again.
ONS figures suggest that 1 in 25 people in the UK are currently infected. In Scotland, the figure could be as low as 1 in 18 people.
Data indicates that a sub-variant of Omicron, known as BA.2, is now the dominant variant. Experts believe that the increased transmissibility of the sub-variant, combined with greater freedom and increased social mixing have driven a rise in cases. Waning immunity among people who had their vaccines or booster doses a long time ago could also be contributing to higher infection numbers.
The health secretary, Sajid Javid, said that there were "no concerns at all" about the sub-variant of Omicron but stressed that the government is monitoring data continuously and will act if other variants or potentially dangerous sub-variants emerge.
Despite the increase in cases in some areas, Mr Javid explained, overall numbers are relatively low and the number of people being admitted to hospital for treatment for Covid-19 is well below the figure during the peak of the pandemic.
The most recent ONS data showed that case numbers are rising in every nation. In Northern Ireland, 1 in 13 people would have tested positive during the week ending March 5th. The number of infections is also rising in older age groups. Almost 3% of over 70s would have tested positive, which is the highest rate since the middle of January.
As immunity wanes in older groups who had their booster in the autumn, the vaccination programme is set to enter the next phase during spring. Those who are most vulnerable, including over 75s, will be offered a fourth dose to boost immunity. The next stage will commence in England in April and those who are eligible for the next booster will be contacted by the NHS. In Scotland, the most vulnerable have already started to attend appointments for the fourth vaccine.
Prof Linda Bauld, from the University of Edinburgh, said that case numbers were always going to rise as society opened up, people went back to work and households started to mix more. The booster programme will continue to protect the most vulnerable, keeping the number of patients hospitalised with Covid low.
For more news please click here