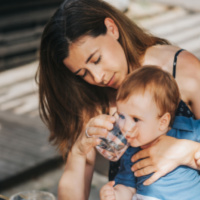 Health experts have urged parents to keep their children out of the sun as a heatwave hits the UK.
A heat health alert has been issued for parts of the UK, with temperatures expected to reach over 30 degrees during the week ahead. Temperatures will be highest across the South East but most parts of England will experience highs of up to 30 degrees.
Health experts from a specialist children's' hospital have encouraged parents to keep their children out of the sun during the hottest parts of the day. Advisors from Sheffield Children's NHS Foundation Trust have also suggested that parents and carers should dress their children in light, comfortable clothing, encourage them to drink plenty of water to stay hydrated and apply sun cream regularly.
Posting on Twitter as temperatures soar across the country, the trust recommended playing in cool, shady spots and avoiding direct sun exposure for long periods. Parents were also warned not to leave children in hot cars.
The first signs of overheating include headaches and becoming restless and grumpy. Experts advised taking children out of the sun if they notice these signs, removing clothing, increasing fluid intake and encouraging rest.
The UK Health Security Agency (UKHSA) has also issued advice for vulnerable adults during the heatwave. The elderly and people who have underlying health issues should avoid staying out in the sun for long periods and stay cool indoors, ensuring they get plenty of rest and increase their fluid intake. The UKHSA has urged people to check in on elderly neighbours and high-risk individuals.
There is a level 3 heat health alert in place from Monday 11th July to Friday 15th July for London and the South East and a level 2 alert for the rest of England.
For more news please click here