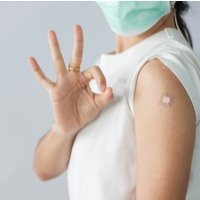 Preliminary studies suggest that booster vaccines can reduce the risk of severe symptoms caused by the Omicron variant by around 85%.
Data collected by UK researchers indicates that a third dose of the vaccines currently approved for use lowers the risk of developing serious disease dramatically. The figure is lower than other variants of Covid-19, but provides reassurance that the majority of people who contract Covid will not develop severe symptoms if they have had their booster vaccine.
The news comes as the UK government and the NHS step up the booster programme to offer every adult a third dose by the end of December. Records for the number of boosters have been broken every day since ministers announced a national push to ensure that as many people can be vaccinated as quickly as possible.
The Omicron variant is spreading at lightning pace, with health chiefs, scientists and government ministers suggesting the nation is in a race. The key to keeping hospital admissions low, experts state, is encouraging high booster uptake rate. The third dose, which is designed to top-up immunity, is now available to all over 18s.
GP surgeries and community health clinics, pop-up vaccination centres, local hubs, pharmacies and venues, such as sports stadia, churches and event locations, are providing thousands of jabs every hour. In England alone, the NHS delivered more than 4 million jabs in the week commencing 13th December. More than 23 million people in England have now had their booster vaccine.
Researchers from Imperial College London discovered that the booster would prevent around 85% of people from developing severe symptoms when fighting the Omicron variant. The findings are based on a small study and research is ongoing, as the variant is relatively new.
Data linked to other variants suggests that the risk of severe symptoms is higher in those with Omicron. Researchers found that protection rates would be around 97% for the Delta variant, which was dominant before Omicron emerged.
Prof Azra Ghani, from Imperial College, explained that it could be several weeks before the true impact of Omicron is known, due to the lag between catching the virus, developing symptoms and potentially going on to suffer from serious disease, which requires hospital treatment. Prof Ghani added that governments would need to put plans in place now to "mitigate any potential impact."
For more news please click here