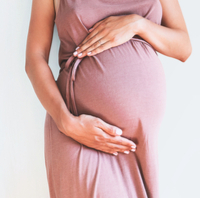 New research suggests that a pregnancy tool can cut baby loss risk among mothers from ethnic minority backgrounds to the same level as white women.
A new app, which is already in use at St George's Hospital, London, analyses the risk of pregnancy problems. In a group of 20,000 women, baby loss was three times lower than normal when using the screening app.
The app is currently being trialled in London and three other maternity departments in England. It is hoped that it will be rolled out to twenty maternity units within the next 24 months.
Pregnancy risks are significantly higher among women from ethnic minority backgrounds in England, according to statistics. By using the risk analysis tool, risks can be cut in line with those identified in white women.
Figures suggest that rates of stillbirth and perinatal death (when babies die between 24 weeks or within a month after birth) are 2-3 times higher in women from ethnic minority backgrounds.
The risk of miscarriage is also 40% higher during the first 23 weeks in black women when compared to white women. A dedicated taskforce was recently established to identify the causes of inequalities and address maternity problems.
The new tool was developed by researchers from Tommy's National Centre for Maternity Improvement in partnership with the Royal College of Obstetricians and Gynaecologists and the Royal College of Midwives.
Lead researcher at St George's Hospital, Prof Basky Thilaganathan, said that the new tool could "almost eliminate a large source of the healthcare inequality facing black, Asian and minority ethnic pregnant women." The tool can "personalise care for you and reduce the chances of having a small baby, pre-eclampsia and losing your baby."
The current system has been around for 70 years and could be vastly improved. The new digital app uses an algorithm to detect women at high-risk and prevent complications, which increase the risk of miscarriage and baby loss. Expectant mothers and healthcare professionals can add information to the app at any time.
When using the existing tick-box system, statistics showed that there were around 8 deaths per 1,000 births among women from ethnic minority backgrounds compared to 2.63 deaths per 1,000 births among white women. When using the new app, there were no differences in death rates between white and ethnic minority mothers. Around 75% of deaths linked to problems with the placenta were prevented.
For more news please click here