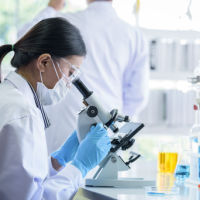 Researchers are looking for five million volunteers to take part in a major new UK health study.
Our Future Health will be one of the largest and most detailed health studies in the world. The aim is to collect and analyse data to find more effective ways to diagnose, treat and prevent a wide range of illnesses, including dementia and cancer. The project is funded by the government, health charities and organisations within the medical industry.
Prof Sir John Bell, chair of the programme, explained that the primary goal is to use data to "shift the focus of healthcare systems to earlier diagnosis and prevention." Many people in the UK are currently undergoing treatment for conditions and diseases they have had for 20 years or even longer. The current system aims to treat symptoms, but it would be more effective to identify and target diseases before they become symptomatic. Often, this can be up to 30 years before patients alert health professionals to symptoms or signs are detected during screening or testing for other conditions.
Prof Sir John Bell said that the study will help to detect issues early, which will improve the chances of successful outcomes and lower the risk of minor symptoms developing into more complex illnesses.
Initially, invitations to take part in the study will be sent to around 3 million adults in Greater Manchester, London and West Yorkshire. Eventually, the programme will expand to cover any UK adults who want to apply.
Volunteers will be required to provide information about their lifestyle choices and health status and medical history and they will also undergo tests, including blood pressure checks, blood tests, BMI and genetic tests. Participants will also be asked to give their consent for researchers to access NHS records.
Information gathered during the study will be used by teams across the NHS, charities, medical companies and research institutions, including universities, for a range of purposes, including improving diagnostics and developing new ways to identify symptoms and treat diseases.
Volunteers will also be able to access some of their results to see if they are at greater risk of developing diseases based on genetic tests.
Dr Chris MacDonald, from Pancreatic Cancer UK, welcomed the project, which he described as an "exciting initiative," which will "provide valuable insight into the health of the nation over time." Pancreatic cancer has a relatively low survival rate due to the fact that it is almost always detected at an advanced stage.
For more news please click here