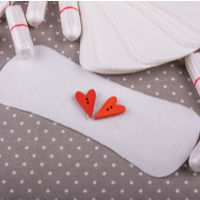 Schools in England will provide period products free of charge as part of a programme set up by the government to prevent period poverty.
Primary and secondary schools across the country will be able to opt into the scheme, which will enable students to access products, such as tampons, pads and menstrual cups without paying. The aim is to ensure that nobody has to miss school because they don't have access to the products they need.
Schools that opt into the programme will be able to choose products, which will be supplied by phs Group, online or to place orders via the phone or by email. Each school will be given a budget, which is based on 35% of pupils who menstruate using the products provided. The cost of items varies, so schools will be responsible for deciding how to spend their money. 
The government announced that it would fund period products in secondary schools in April last year, and the scheme was quickly expanded to include primary schools.
News of the programme has been welcomed by campaigners, including 20-year-old Amika George. Amika started campaigning for free products for pupils when she was 17 and she has encouraged schools to work with students to break down the stigma of talking about periods and to inform buying decisions, as some products are better suited to some pupils than others.
Head of Year Seven at Southam College, Warwickshire, Lynda Erroi, also backed the scheme. She often helps to support students who "have no plan in place for when periods start" and said that providing free pads, tampons and cups in schools will reduce stress and ensure that every student is able to attend school during their period. Ms Erroi also said that the programme has benefits for staff, who will be better able to assist and support students moving forward. 
Children and families minister, Michelle Donelan hopes that the scheme will enable students to "go about their daily lives" without any worries or anxiety.