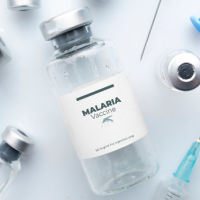 Scientists have hailed a "world-changing" malaria vaccine, which is set to be rolled out at scale next year.
A team from Oxford University has produced a new vaccine, which provides effective protection against malaria, a disease, which kills thousands every year. Research trials showed the vaccine has up to 80% efficacy. The new vaccine is not only cheap to produce, but it is also relatively easy to manufacture. There is already an agreement in place to create more than 100 million doses every year once the rollout commences.
The development is hugely significant. Representatives from Malaria No More said that it could put a stop to children dying from malaria during "our lifetimes." After more than a century of working on a vaccine for malaria, the World Health Organization approved the first malaria vaccine in 2021. The vaccine, which was produced by GSK, was distributed in Africa.
The team at Oxford University is particularly excited about its new malaria vaccine because it is easier to produce in large numbers and scientists believe that it is more effective than the GSK injection. The findings of a trial conducted in Burkina Faso showed up to 80% efficacy when given in three doses followed by a booster. The trial involved 409 children from Nanoro.
The results of the first trial have been published in The Lancet Infectious Diseases. The team is now waiting on the outcome of a much larger, more extensive study involving 4,800 children. The findings will dictate the next move, with researchers hoping the vaccine will be approved for use in the coming weeks.
Prof Adrian Hill, from Oxford University's Jenner Institute, described the trial findings as "the best data yet in the field with any malaria vaccine" and explained that this particular vaccine is promising because it is very cheap to produce. He added, "We really could be looking at a very substantial reduction in that horrendous burden of malaria." The team is hoping that the vaccine will be in use soon with the expectation of protecting children and "saving lives, certainly by the end of next year."
The latest statistics show that malaria kills more than 400,000 people every year. Over 93% of cases are identified in Africa.
Prof Katie Ewer, who is part of the Oxford team, described the vaccine's potential as "world-changing."
For more news please click here