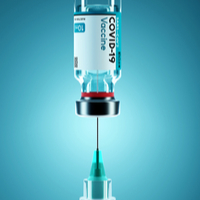 Ministers in Scotland have confirmed that the most vulnerable residents will be offered a fourth dose of the Covid vaccine this spring.
Spring booster jabs will be available for care home residents, over 75s and people with underlying health issues, which make them more susceptible to severe illness.
Ministers have also announced that children will be able to access vaccines. This stage of the rollout will cover 5-11-year-olds. Parents of children who are eligible for their first jab will be sent a letter in the coming weeks. Children will be given a weaker dose, which is equivalent to a third of a standard first dose for adults.
The decision to vaccinate younger children comes after recommendations from the JCVI (Joint Committee on Vaccination and Immunisation).
The fourth booster dose will be offered to vulnerable groups who had the third dose at least 24 weeks earlier. Most of those who are eligible had their booster vaccine in the autumn. The fourth dose will serve to boost immunity.
Scotland's health secretary, Humza Yousaf, urged those who are eligible for the fourth jab to come forward and have their vaccine.
People in the priority groups have a higher risk of developing severe symptoms of Covid and having the fourth dose can help to provide additional protection, as immunity wanes over time. For those who had their third dose in September or October, the fourth vaccine provides an opportunity to boost immunity and lower risks.
The most recent data from the Office for National Statistics (ONS) suggests that 1 in 19 Scots currently have Covid. Levels of infection remain high, which means that the continued progress of the vaccine rollout is crucial to keep hospitalisation rates and deaths low.
People who are eligible for the fourth dose will be contacted in due course to let them know when to book their next jab.
For more news please click here